Suspended System FUT Ceiling Grid
Product Detail
Product Tags

1. The ceiling grid has the characteristics of moisture-proof, anti-corrosion and non-fading.
2. It has high precision, the main /cross tee is strictly symmetrical, and the cooperation is tight.
3. It has strong bearing capacity, no deformation or cracking.
4. The installation is fast, saving installation time and reducing labor costs.

A complete set of suspended ceiling system is composed of main tee, long cross tee, short cross tee and wall angle. The main tee is the main beam of the ceiling system. The length of main tee is generally 3600mm or 12 feet long. The long cross tee or short cross tee is connected to the main tee through the plugs at both ends of its own, thereby dividing the entire ceiling project into several square grids of the same size. It is used for ceiling installation of square ceiling materials such as mineral wool board, pvc gypsum board, aluminum ceiling, etc., and plays a supporting and decorative role in the entire ceiling system.

Working conditions 
1. The basic acceptance work should be completed before the construction of the paint skeleton and gypsum cover panel partition wall. The installation of the gypsum cover panel should be carried out after the roof, ceiling and wall plastering is completed.
2. Design requirements when the partition wall has floor pillow belts, the construction of the floor pillow belts should be completed and reach the design level before installing the paint skeleton.
3. According to the design, construction drawings and material plan, check all the materials of the partition wall and make it complete.
4. All materials must have material inspection reports and certificates.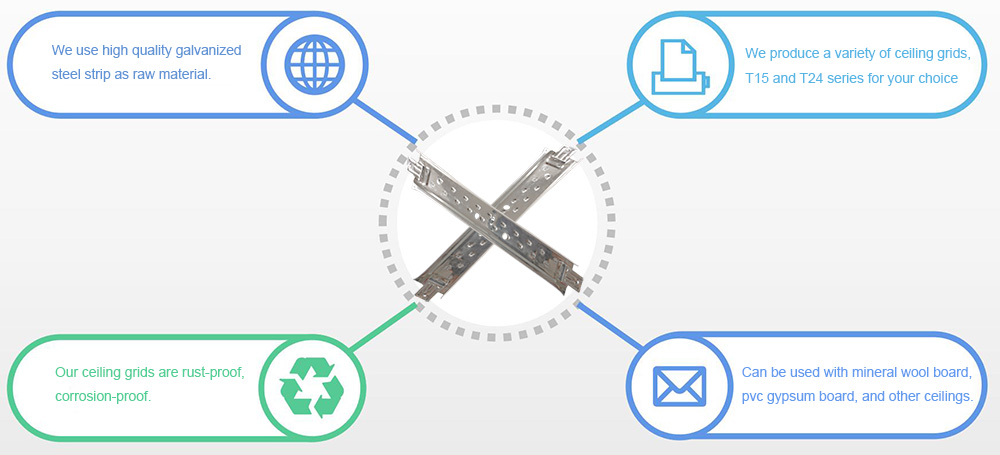 Description

Length

Height

Width

 

 

Flat T24

Ceiling Grid

Main Tee

 

 

3600mm/3660mm

 

 

32mm

 

 

24mm

 

 

Flat T24

Ceiling Grid

Long Cross Tee

 

 

1200mm/1220mm

 

 

26mm

 

 

24mm

 

 

Flat T24

Ceiling Grid

Short Cross Tee

 

 

600mm/610mm

 

 

26mm

 

 

24mm

 

 

Wall Angle

 

 

3000mm

 

 

22mm

 

 

22mm

In recent years, it has been widely used in hotels, terminal buildings, passenger stations, stations, theaters, shopping malls, factories, office buildings, renovation of old buildings, interior decoration, ceilings and other places.

---
---
Write your message here and send it to us